You ask me why I did not
pin a star beside this city
or that, & my maps
are gathered in graphite
& not ink.

Perhaps I did,
& did not care
to rebuild that city
just yet for you.

Perhaps
I wanted to remember
a song curling up the vents
& bent over my ear
like the willow tree outside
rooted deep as basement:

Brother, or birds, now gone.

What between this city's bricks
counts as mortar, counts as awl?

Perhaps you lift a stone,
& perhaps a snowplow
or chipmunk escapes,
tiny roar scraping asphalt
as it slips away among the lilacs.

Perhaps I lift a bonsai pot
or a hummingbird's wing,
& perhaps all the names
gathered in my shirt hem
fall in handfuls as I work

& perhaps I don't notice
until we finish, too late—
daybreak, hunting
season:
the deer come
swift toward this last bit
of rubble, & we are
wearing the wrong colors.
___________________________________
THRESHOLD

I don't know your face
but I recognize you
as a man selling lemons
or limes in the rain,
or I don't & you are
only membranes of light
between the palm
& its coin or another
palm never pressed
against mine.

Are you a woman
who swallows rain
in the form of crushed ice?
Or a wolf-child
who sleeps in the garage
pooling so fast with exhaust
I can't hold it all together
with one breath? & here
between you and you,
if I wipe the rain
from my eyes, then you are
both & neither & gone.

Let me step down, I said,
or I didn't & wouldn't
step down into the water
because it was everything
my body isn't & was
ready to engulf my face
& steal its edges away
with its retreating
impression of me,
the version that was
just my face & maybe
a bit more or less.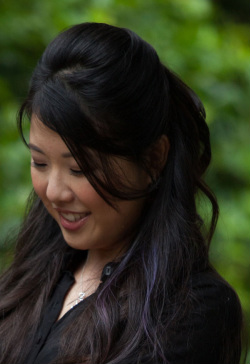 Marci Calabretta Cancio-Bello is the author of Hour of the Ox, which won the 2015 AWP Donald Hall Prize for Poetry (Pittsburgh, 2016), and has received poetry fellowships from Kundiman and the Knight Foundation, among others. Her work has appeared or is forthcoming in The Adroit Journal, Best New Poets 2015, Columbia: A Journal of Literature & Art, december magazine, Los Angeles Review of Books Quarterly, Narrative Magazine, and more. She serves as cofounding editor for Print-Oriented Bastards and producer for The Working Poet Radio Show. www.marcicalabretta.com.
Related Posts
« DEADWEIGHT – Jacinta Clay BLACK FEELING & 2 Poems – Cameron Awkward-Rich »