verse
more than perm or not
more than hood or not
more than Chicago or Brooklyn
or Omaha or Biloxi or not
more than somebody's woman or not
more than somebody's mama or not
more than some body made burnt Venus
or Mammy or syrup dripping or not
more than a body made sex-crazed and sexless
more than a strong back or not
more than you can handle
more than big hips or not
more than thighs or not
more than thick curves, thick lips
more than thick nose, think ankles
or not.
more than thick or not. more than thick.
you are so much more than what they've made
you think your name is. how they shorten
songs that used to ready the air for your scent
into here comes that black girl again.
who raised these unlearned children?
reckless and dumb with tongues,
don't listen when they call you anything
short of Madonna, Onyx Thunder
here comes that light wrapped in palm again
                        here comes that sunbaked siren again
                        here comes that caramelized forbade fruit again
you the first ocean with feet, grew a world
from what feels like rain sometimes. you the big bang,
way you swoop that hair make a world fall and rise.
you the prototype for dirt, way the world
spring up from it. you the first church,
make a body bow and shout in you.
you the first religion, pulpit for a jaw and a tongue
that saves. you the first sin, wasn't no fruit more sacred
than what Adam found 'tween your branches.
                         bridge
I got no business writing this.
If I was wise, I'd write copper & manna
& breathe & all your black girls names
all over all the books & skies
till the wide world was your jam
& everything smelled like church
& pink lotion & cocoa butter
was recognized as greased gold
& currency                  but I am not wise
I am stupid with your scalps' sweet
char, your hips & their twerk
& birth & how they mount akimbo
with ashy, smooth fist, how the whole
everything started right there
in that soft wild that makes the world
crave & fear you so.
                        chorus
here comes the sun, little darling
here comes rain, baby girl
here comes wind filled with cinnamon, honey
here comes a storm of golden hail, sista.
here comes a mouth filled with hosanna, sweet miss.
here comes a boneless god, queen.
here comes love, girl-child.
here comes heaven round the corner, love.
here comes an ocean of light, Ke Ke.
here comes a song about your skin, Shameaca.
here comes a fire that burns everything but you, Keisha
here comes salvation, Aisha.
here comes everything that says your name right, little darling
& I say: It's alright.
genesissy
for Dwayne 'Gully Queen' Jones
the lord begat man                   man begat sin              sin begat a new joy
a new joy begat hate                 hate begat Leviticus     Leviticus begat Sista Rose
Sista Rose begat that ugly rumor
ugly rumor begat the truth
truth begat the need to pray or run
the need or run begat the knees
(& that is a kind of praying too)
the knees begat the mouth splattered
across him-colored dirt road
the mouth splattered across her
-colored dirt road still begat song
song begat hymn's at the sweet 'boy's' funeral
the sweet girl's funeral begat
her aunt's disgusted head shake
his aunt's disgusted head shake
begat the world that killed
the not a boy-child
& stole her favorite dress
right off her cold shimmering body
& that can't come from God   right?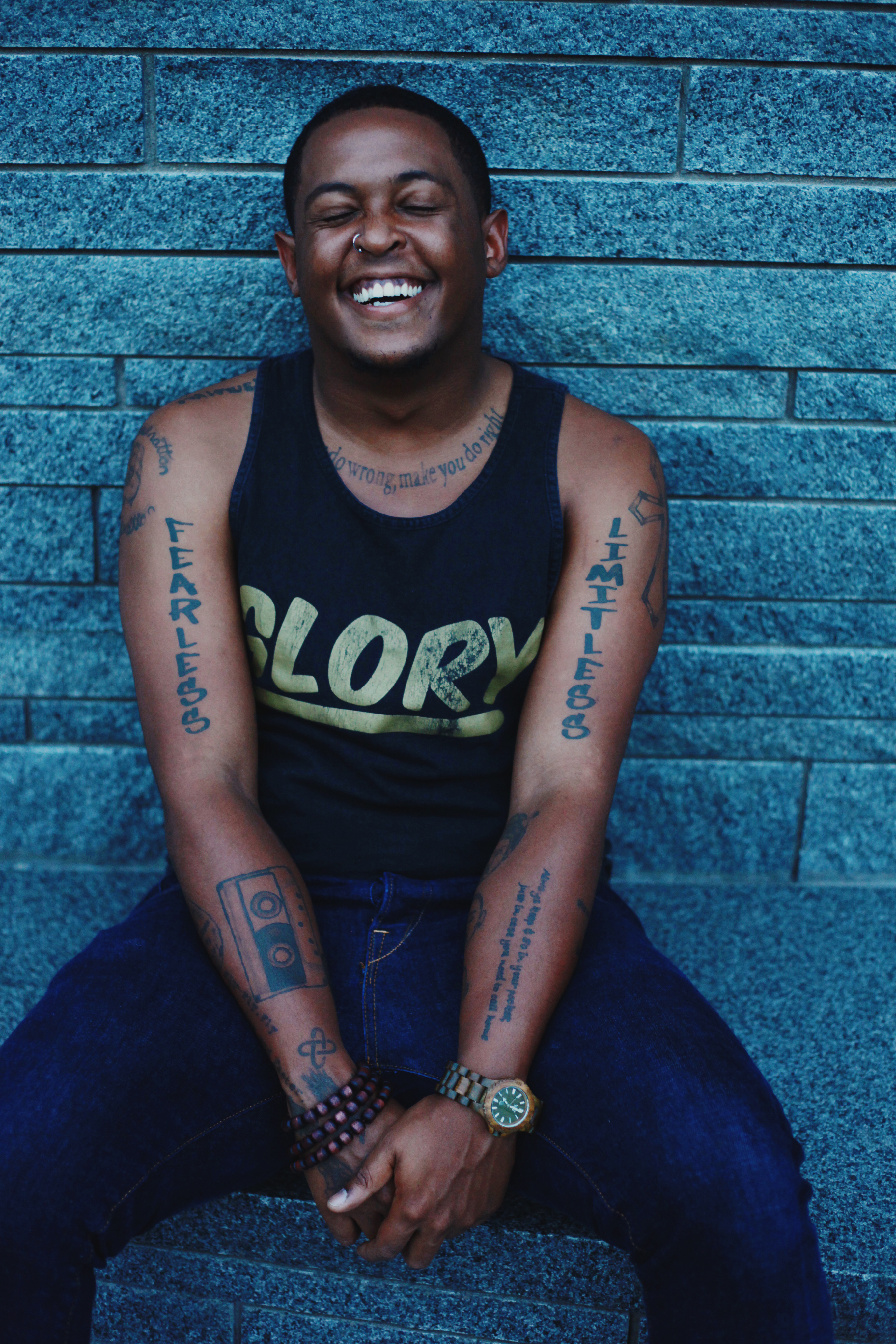 Danez Smith is a Cave Canem Fellow, Pushcart Nominee, Survivor & Black Queer from St. Paul, MN. Danez is the winner of the 2014 Reading Series Contest sponsored by The Paris-American, was featured in The Academy of American Poets' Emerging Poets Series by Patricia Smith & was a finalist for the 2013 Rattle Poetry Prize. Danez is the author of 'hands on ya knees', a chapbook published by Penmanship Books. His full-length collection, '[insert] Boy, will be published in 2014 by Yes Yes Books. His writing has appeared or is forthcoming in Poetry Magazine, Ploughshares, Devil's Lake, The Cortland Review, Anti-, & elsewhere. Danez started writing because of slams & necessity, & placed 6th in the world at the 2011 Individual World Poetry Slam & is the 2013 Rustbelt Midwest Regional Slam Champion. Danez twerks with the best, has no time for the rest. He writes & lives in Oakland, CA.
Related Posts
« EDISON, NEW JERSEY – Junot Diaz WOLF PACK – Mecca Jamilah Sullivan »